Registration Fees (17% VAT Included)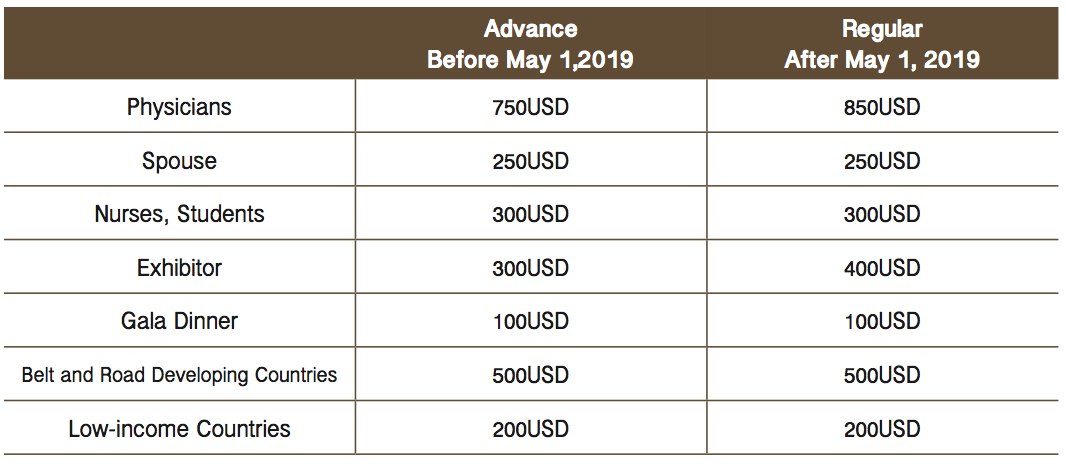 *Physicians from Belt and Road Developing Countries and Low-income Countries could get the special grant.
Belt and Road Developing Countries List
Low-income Countries List

Registration fees include:

All badges give access to scientific sessions and exhibition during the whole congress

Ticket for the Opening Ceremony and Welcome Cocktail on Sep.9th

Lunches and Coffee Breaks on Sep. 10th-12th

Congress Materials Bag


Certificate of Attendance

Payment Information

On-line payment

On-site payment
Payment Status (Check at 'My Page')


You can check the payment status of your registration at "My Page".

Payment status will change to "Paid" if payment is verified.

Confirmation of Registration

Confirmation of Registration can be downloaded once payment is verified by the Congress Secretariat.


Registration without appropriate payment will not be honored until the full payment is received.

On-site Registration Schedule
The registration desk will be located in the lobby of China National Convention Center, and will be open during the following hours:


September 7, 2019 09:00 - 18:00


September 8, 2019 09:00 - 18:00


September 9, 2019 07:00 - 18:00


September 10, 2019 07:00 - 17:00


September 11, 2019 07:00 - 17:00
Cancellation


Notification of cancellation must be submitted in written before Aug. 20, 2019.


Refund requests will be processed ONLY after the Conference.


For online payment, refund will be applied to the original card used during payment after 21 working days approximately.


All the payment will be made through the third party payment platform "PayEase".


The refund details are as follows:


Notification received
Before Aug. 20, 2019: 80 % Refund
After Aug. 20, 2019: No Refund.
As an alternative to canceling, you may transfer your registration to another member of your organization for free.

WFNS2019 Registration Secretariat
Ms. Dong
E-mail: reg@wfns2019.org